Meet Our Donors
Alternatives to A Bequest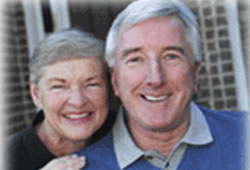 Make simple estate gifts without changing your will or trust
Several little-known alternatives avoid probate and usually avoid income and estate taxes.
Consider this example: Ruth and Frank were brother and sister with individual bank accounts and a joint bank account. After Frank died, Ruth wanted to make sure that, upon her own death, what was left in the joint account would to go to Samford for endowed student scholarships. Ruth's bank manager told her she could arrange this by making Samford University beneficiary of a P.O.D. (pay on death) account.
P.O.D. accounts are allowed in most states and by most financial institutions for any type of financial account: savings, checking, CD, brokerage firm, credit union, etc. By simply complete a form, you can name Samford beneficiary while keeping the right to change the arrangement at any time.
Here is a list of other common bequest substitutes:
IRA, 401(k), 403(b), Keogh or pension plan beneficiary: Your plan administrator will give you the form to do this. You may name Samford as full, partial or secondary beneficiary by completing the form.
Mutual fund beneficiary: Your mutual fund company will give you the form you need to name Samford as full or partial beneficiary of the fund at your death.
Life insurance beneficiary: Your insurance company will give you the form to name Samford as full or partial beneficiary.
Certificate of deposit beneficiary: Your financial institution can help you establish a CD where Samford is beneficiary at your death, or you may change the beneficiary of an existing CD.
For more information about this gift, please Contact Us.