Meet Our Donors
Keep Memories Alive and Lock in Your Giving Forever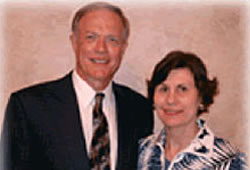 Carol: John and I share very fond memories of Samford, the administration, faculty and particularly the students. I know how much John's family cherishes Samford. He and several of his family members are graduates. We believe that Samford is such a wonderful place for students to prepare for life and their service to the world that we decided to do something that would help other students choose Samford.
John: Over 10 years ago, Carol and I started the John and Carol Duren Scholarship Fund with the hope that it would be granted to incoming freshmen who need financial aid to attend Samford. Through my study of chemistry and career in the chemical industry, I came to appreciate the benefits to society made possible by citizens with a general knowledge of math and science. I wanted to help young students develop the same appreciation. The fund helps Samford students who want to prepare to teach science or math to junior high or high school students.
Samford has done a good job of investing the fund we established, and it has grown substantially. We have used multiple resources to help it grow. My company, DOW Chemical, has a matching gift program that helped us build the fund principal. When it makes sense, we give appreciated stock that actually cost us much less than the gift amount. At other times, we simply make cash gifts. We have also planned for Samford in our wills.
I encourage anyone interested in giving to Samford to consider all their options. Visit the campus, take a look at the programs that interest you and see what options for giving Samford has to offer. You will discover a plan that works for you, just as we did. It has been rewarding for Carol and me to see the scholarship fund grow over time and become sufficient to make a difference for young people for years to come.
For more information about this gift, please Contact Us.