Meet Our Donors
The "Double Benefit" of Giving Part and Keeping Part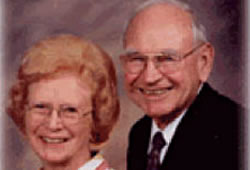 J.B. and Nancy Davis have been loyal supporters of Samford for many years, even though are graduates of another university.
J.B.: After two years at Samford under the Navy V-5 and V-12 programs, I was transferred to another university to complete officer training. Although my education was finished elsewhere, a large part of my heart remained at Samford. In order that the Navy program at Samford during the World War II years would not be forgotten, I donated my Navy dress uniform to the Special Collections Library, where it is still on display today.
Nancy: After J.B.'s career in industrial engineering, real estate and public service and my teaching career that included six years of teaching at Samford, both our hearts were calling us to do more for Samford. J.B. knew that our beach condominium had increased in value over our twelve years of ownership and would be subject to considerable taxes if we were to sell it. He contacted the Director of Gift Planning about our giving all or part of the beach property to Samford, as well as how our gift could be used by the University.
J.B.: I was familiar with the real estate market in the area and wanted to make sure, if we all decided to sell after the gift, that the transaction was handled by knowledgeable parties at the right price and with minimal problems for Samford. Yet, we didn't see that we could afford to give away the full value. We decided to deed half ownership to Samford and retain the other half. This way we retained the input I wanted, and we avoided capital gains tax on the market value increase on the half given to Samford. The income tax deduction we received for the gift offset the capital gains tax on our half. This allowed us to make a larger gift to Samford, eliminated taxes and provided some money for our retirement needs or for later gifts to Samford.
For more information about this gift, please Contact Us.