Meet Our Donors
A Tax-Smart Way to Give: Appreciated Securities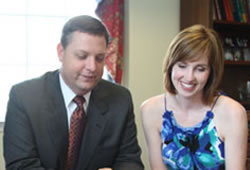 Andrew and Julie Walton Cundiff, '95, contribute financially to Samford every year. They contribute in other ways as well, but their annual financial gift keeps them in the habit of supporting their alma mater more so than the amount of their gift.
One of the many ways of giving and one that has helped the Cundiffs meet their annual giving goals, not only to Samford but with other charitable causes as well, is the gift of stock.
Drew: This is a tax-smart way to give. It provides the donor the full amount of the gift. Utilizing the matching funds of my employer allows me to maximize my gifts and tax savings.
Smaller gifts are important because they are usually unrestricted. What we've given as stock gifts has been unrestricted. As a result, Samford is able to use the funds for aid to students, athletics or whatever the need may be.
Another value of smaller gifts is that they can be "bundled" for maximum benefit. For example, a particular class or organization may contribute as little as $50 by each member, but together it may amount to several thousand dollars. That "bundled" gift might then establish a named scholarship or meet some other need.
Most all the people I know who went to Samford when I did are above average as it relates to finances. I would urge each of them to give something, every year. The size of the gift is not as important as being reconnected with Samford.
For more information about this gift, please Contact Us.