Meet Our Donors
Give to Yourself Now and to Samford Later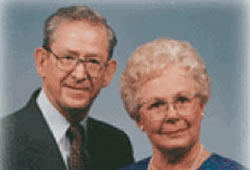 Bob retired about 20 years ago after a fulfilling career in scientific research and teaching at several universities. In their undergraduate schools, both Bob and Ann had strong liberal arts backgrounds. They wanted their daughter and son to have opportunities to study in similar environments, and encouraged them to consider Samford among their choices. Both young people had excellent and enduring experiences at Samford, earning two degrees each.
Bob: We are impressed greatly by the academic, esthetic and physical environment at Samford, and are impressed with the quality of the faculties and the educational results. We also appreciate Samford's dedication to academic, ethical, and Christian standards, and wished to do what we could to support that mission in continuity.
However, I was facing a reduction of income at my approaching retirement. We wished to maintain income approximating pre-retirement levels, and could not afford to make an outright gift to Samford in the amount we were considering. We decided to start a charitable remainder trust which would pay income for our joint lives, with the remainder going to Samford.
Once our attorney drafted the document, we changed the title of our stock to the name of the trust. Because we were able to select a payout exceeding the stock earnings, we have been pleased that our overall income has not differed greatly from that before retirement.
Why did we do this? More than receiving the financial benefits of reducing taxes without sacrificing needed income, Ann and I wanted to express our gratitude to Samford for the opportunity our children had in receiving quality educations in an academic and social environment that reinforced ethical and Christian virtues. We also wanted to help Samford provide the same advantages to other young people that the institution did for ours.
The satisfaction we feel about being able to help Samford in this way is beyond what we anticipated. For us, a charitable remainder trust has been a great way to support Samford, and to receive personal satisfaction and financial benefits.
For more information about this gift, please Contact Us.