Meet Our Donors
An Easy-to-Make Gift Hidden in Your Estate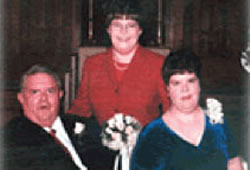 Talk with Gene Bluemly a few minutes and you'll quickly learn that Samford is important to him.
Gene: I have always respected Samford and found a real difference on the campus. I played football for the Bulldogs under legendary coach Bobby Bowden. I met my first wife Nancy, now deceased, and her father Lou Arnold, Samford's photographer for 33 years. I remarried and still love to take every opportunity to visit the campus with my wife Della and my daughter Susan.
Health problems have forced me to retire from Equitable Insurance Company (now AXA Financial Advisors), but I am a charter member of Samford's Professional Advisors Council and enjoy working with other financial advisors to support Samford's work. My lawyer is also a charter member of the Council. When the Director of Gift Planning asked me about a gift to Samford Athletics, I told him to talk with my lawyer.
After several discussions with my financial advisors and Samford's Gift Planning Director, I decided to cash out a part of my retirement plan for a gift to the Samford Athletic Department. I knew that assets left in my retirement plan at my death would be taxed with both estate tax and income taxes, causing over half the value to be lost. Since I had just turned age 59-1/2, I could take money from the plan without a withdrawal penalty and then make a tax-deductible gift to Samford. It made sense to me, and my advisors thought it was a good idea.
Maintaining support for my family was important because of my disability. With this strategy, I was able to make a larger gift to Samford than I had ever even considered, and with no impact on our standard of living
The withdrawal was taxed as income during that year, but the charitable deduction I received offset the tax. My joy in being able to help Samford with their immediate need was beyond what I could have imagined. Della, Susan and I have made many new friends at Samford. Now, each day we are able to know the satisfaction of reaching beyond the obvious to find expression of our priorities.
For more information about this gift, please Contact Us.