DeVotie Legacy Society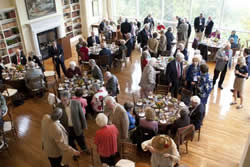 Click Here to View Our Photo Gallery of Past Society Events
History
On January 3, 1842, Samford University — then called Howard College — opened its doors to its first nine students.
Trustee James H. DeVotie had obtained the land for the new campus.
Passionate in his support for the institution, DeVotie became the voice of progressive leadership for Christian higher education in Alabama.
Purpose
Established in 1995 to memorialize this Samford founding father, The DeVotie Society:
Recognizes our present responsibility to plant shade trees under which we know we will never sit, and
Celebrates the many who have planted — and are planting — for the future, with planned gifts through their estates.
An estate gift is one of your most powerful ways to support Samford University, its mission, and its students.
When you let us know you have made us part of your estate plans — whether through your will, trust, insurance policy, retirement plan, annuity or other method — you qualify immediately for membership in the DeVotie Legacy Society.
Benefits
You take your place among our special supporters who have made a real difference for future generations of Samford students.
You provide an example to others of how they could also support Samford students.
You receive a special invitation to the DeVotie Legacy Society annual luncheon.
You receive a DeVotie Legacy Society memento of appreciation.
You receive regular news about current events at the university, as well as helpful information about your personal, financial, tax and estate planning options.
To learn more about making a bigger difference for Samford, about making us part of your estate plans, and about becoming a member of the DeVotie Legacy Society, please contact Samford's Office of Gift and Estate Design.
Samford University
800 Lakeshore Drive
Birmingham, AL 35229
Telephone: 205-726-2807 or
877-782-5867 (toll free)
Fax: 205-726-4164
Note: gift details are always kept confidential, and you are welcome to decline public recognition should you so choose.